MAGNUM OPUS COLLECTION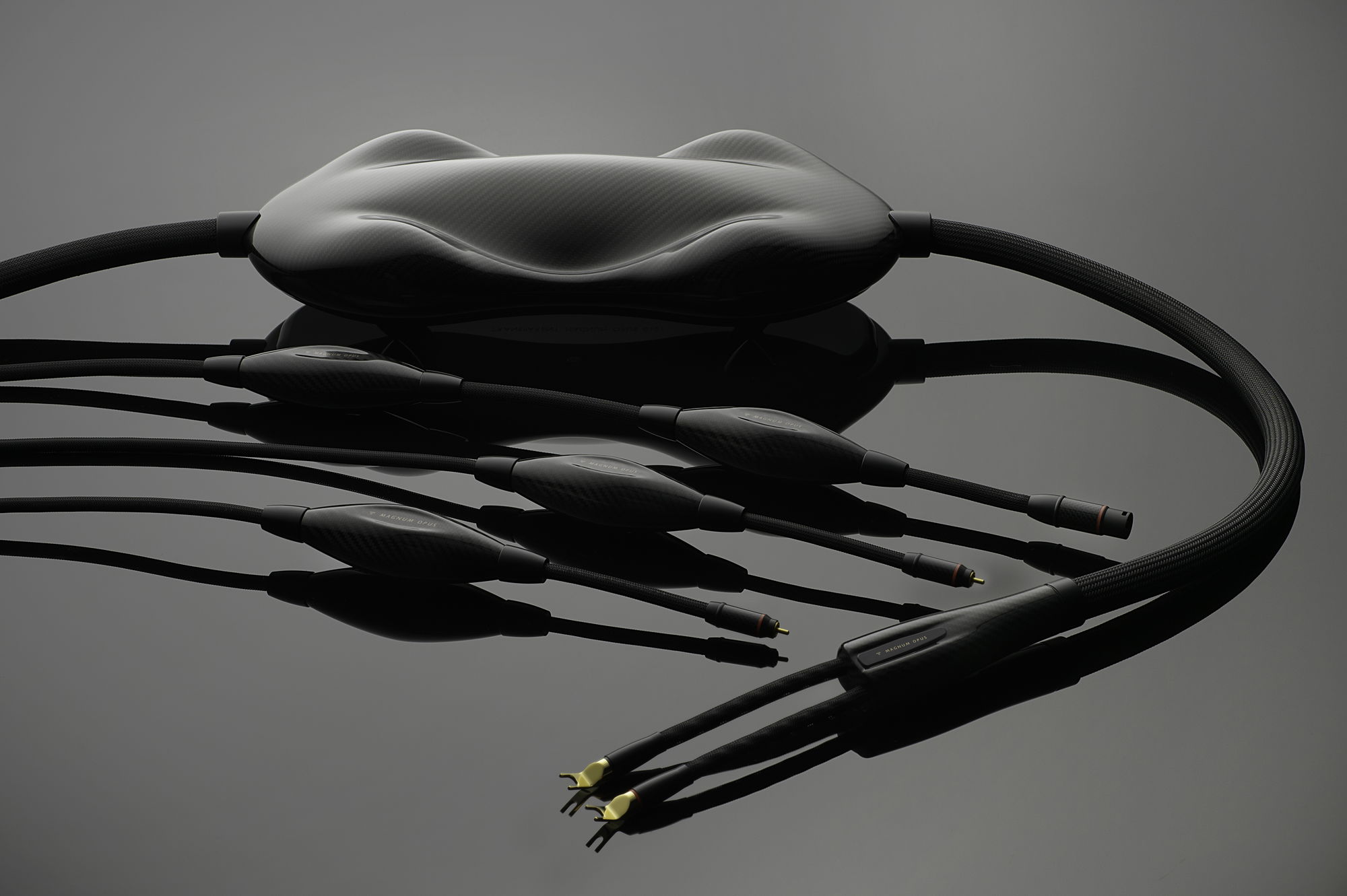 DESIGNED TO MATE WITH THE FINEST AUDIO COMPONENTS EVER MADE
MAGNUM OPUS Speaker Cable is designed to mate with the finest amplifiers and speakers ever made. It works well with other TRANSCENDENT Transparent System Companions in the best systems to lift the listener effortlessly out of his or her listening seat to the best seat in the concert hall. When the goal is no-compromise performance at the absolute highest level, MAGNUM OPUS Audio Cables will ensure that your system can take you there.
SCHEDULE A DEMO >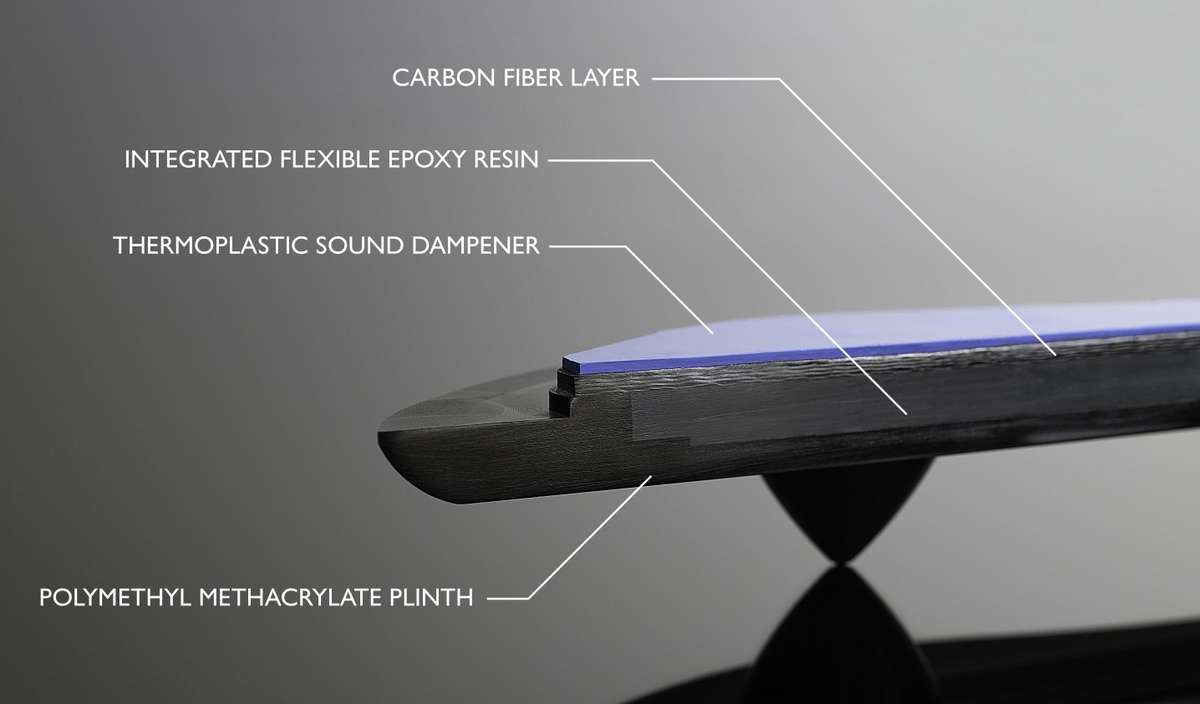 MAGNUM OPUS G6 IMPROVEMENTS
The MAGNUM OPUS carbon fiber network housings have remained the same, but the design team has gone to extreme lengths to reduce any resonance and vibrations.
A similar technique to mass-loaded speaker cabinets has been implemented, using Integrated Flexible Epoxy Resin (IFER).
The Speaker Cable has also been improved with a heavier, more rigid, vibration-nulling polymethyl methacrylate (PMMA) plinth.
To further reduce vibration, a 3/16" carbon fiber plate is embedded in an IFER-filled cavity and thermoplastic layer. The IFER mass in the carapace is fastened with torque settings to ensure a secure and stable construction.
SCHEDULE A DEMO >
OPUS COLLECTION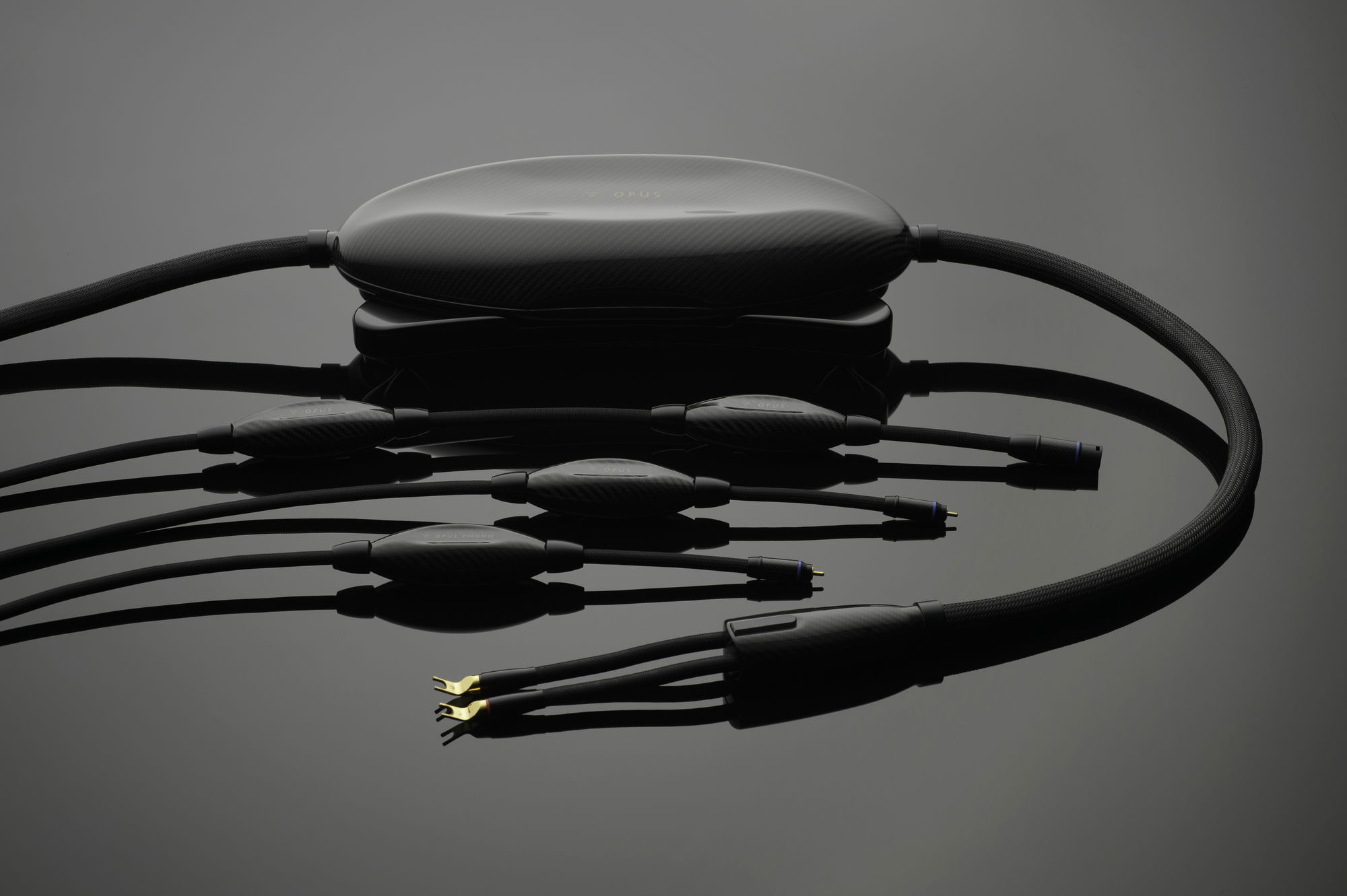 THE DIRECT DESCENDANT OF THE NEW MAGNUM OPUS
Gen 6 Improvements:
Carbon-fiber shells, IFER fillings, and an iconic outrigger shape remain, but the platform is thicker, stiffer, heavier, and more stable.
PMMA layers sandwich a carbon fiber plate in a cavity filled with IFER, and fasteners are secured deeply in the IFER mass.
A thin thermoplastic provides sound damping.
SCHEDULE A DEMO >
XL COLLECTION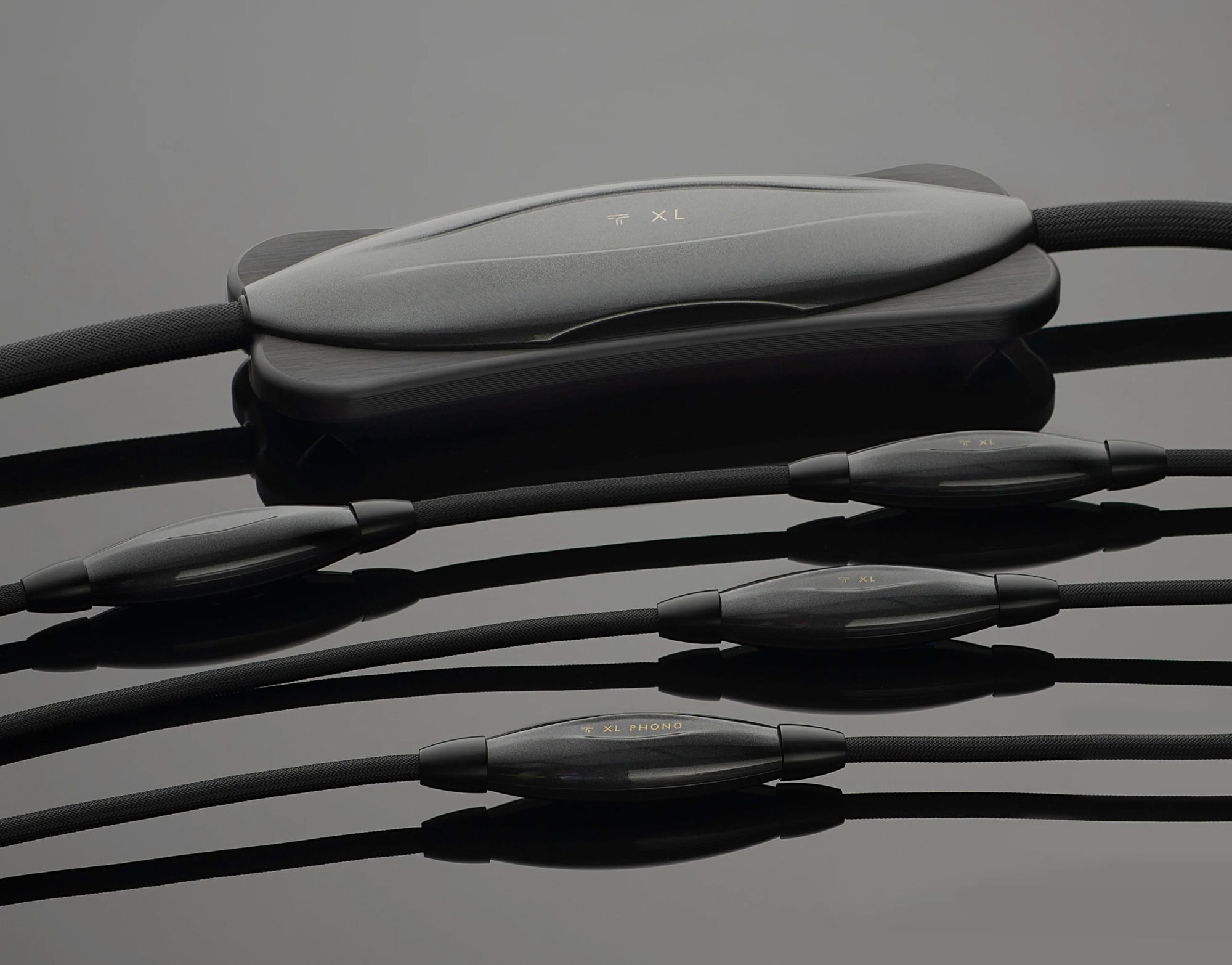 CLOSER TO THE PERFORMANCE OF OPUS THAN EVER BEFORE
XL Audio Cables have gone through a drastic physical remodel as well as networks that are more precise and comprehensive. XL is the perfect addition to hi-fi audio systems that are highly advanced.
New XL Carbon Fiber Composite (CFC) network enclosures with superior vibration and resonance control.
As with OPUS and MAGNUM OPUS, IFER fills all crevices in the XL Interconnect and Speaker Cable network enclosures.
XL Speaker Cable is now sturdier than before. The CFC carapace sits on 3/16" thick carbon-fiber in an IFER-filled PMMA plinth. A thin thermoplastic sound-dampening layer lies between them, with fasteners bore deeply into the IFER.
More current-carrying capability and improved stability and damping.
SCHEDULE A DEMO >
REFERENCE COLLECTION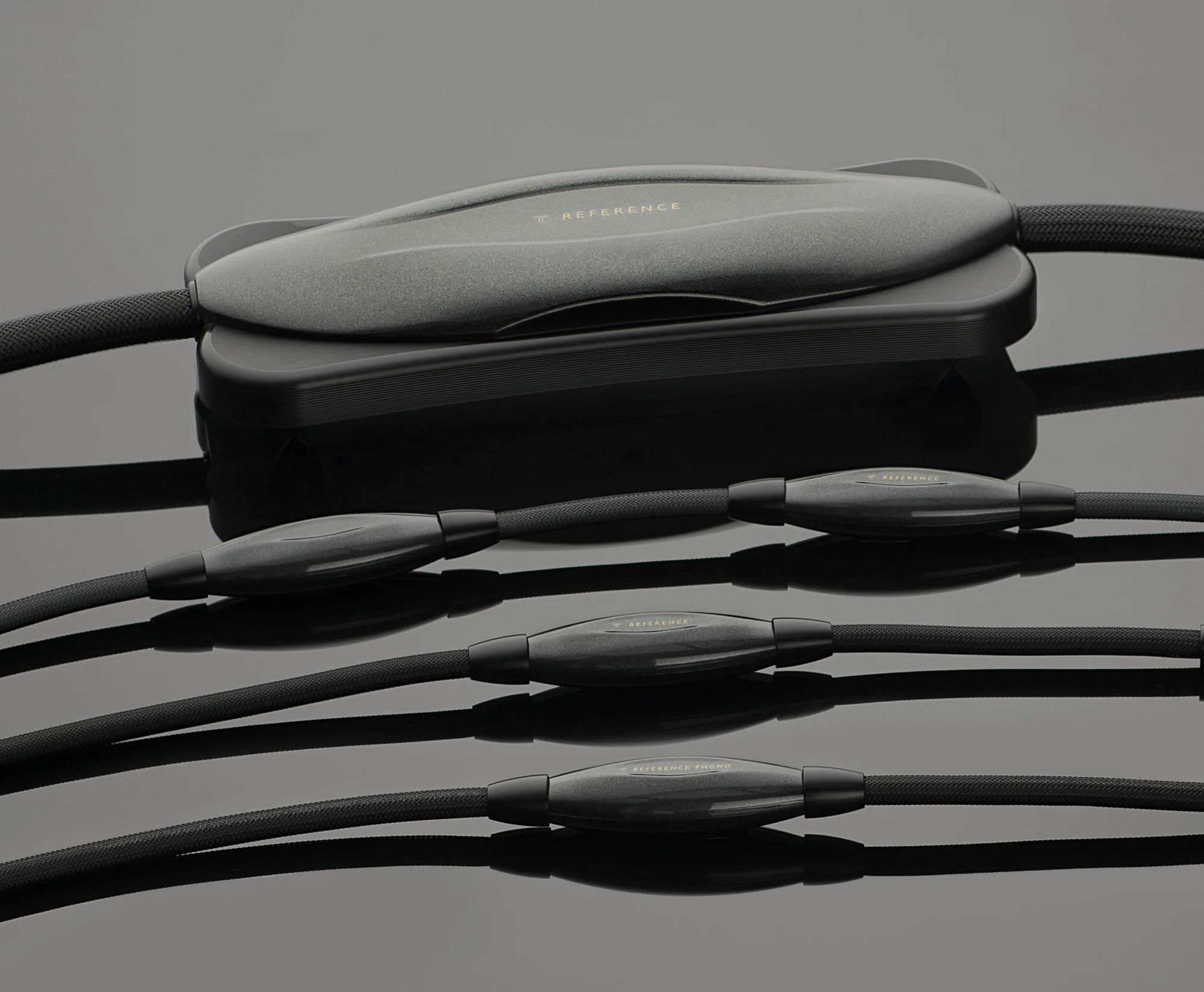 REFERENCE COLLECTION:
A SOLID AND REFINED BUILDING BLOCK
REFERENCE Audio Cables have been improved with Generation 6 network advancements, transforming to be stiffer and lighter with larger cavities for networks and damping.
Crafting with Carbon Fiber Composite, IFER fills every crevice, helping to reduce vibrational and resonance issues for connoisseur audio systems in the early stages of development.
SCHEDULE A DEMO >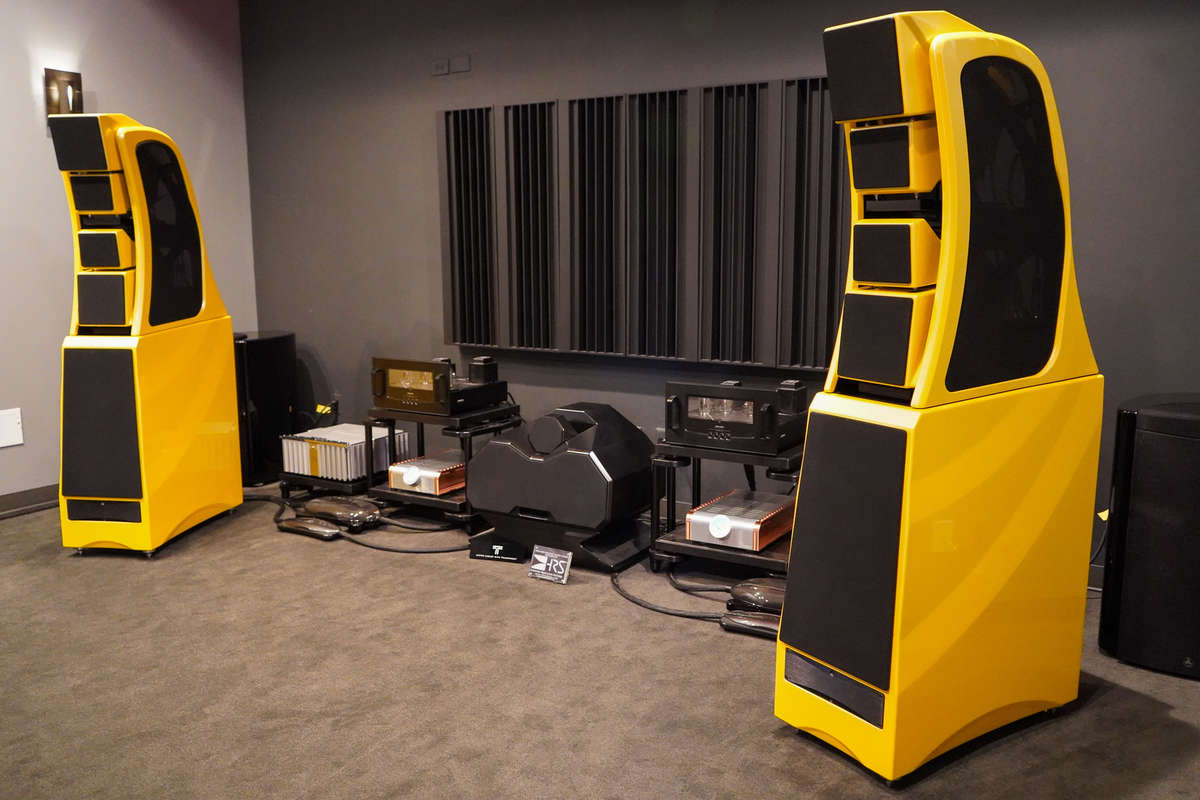 PARAGON SIGHT & SOUND:
A GENERATION 6 EXPERIENCE CENTER
Featuring all levels of Generation 6 including Transparent's flagship MAGNUM OPUS, Paragon Sight & Sound's Ann Arbor, MI showroom can give you the ultimate Transparent Experience on carefully curated systems, from the most basic to those consisting of the finest audio components available.
Contact Us >