Wilson Audio Alexx V
Floorstanding Loudspeaker
Wilson Audio Alexx V
Following major launches of the WAMM
Master Chronosonic®, Chronosonic XVX®, Sasha DAW®, and SabrinaX®, Alexx
V joins a very special family of ground-breaking loudspeakers designed and
handcrafted especially for music lovers and audiophiles alike.

Wilson Audio Alexx V is available for purchase in-store only. Contact us for more information.
Contact Us >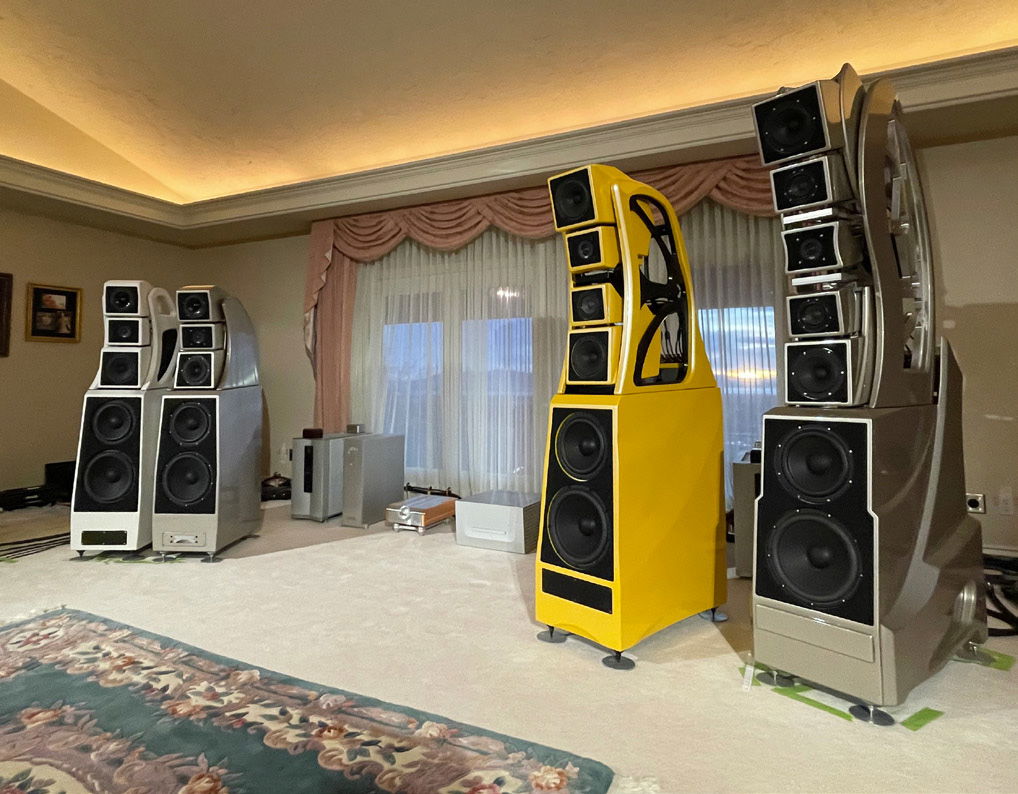 Origins
The original Alexx loudspeaker, launched in 2016, quickly gained critical acclaim throughout the industry. Alexx benefited from several elements developed during the five years Wilson Audio's founder David A. Wilson, and his unwavering R&D team, brought to life his magnum opus: the WAMM Master Chronosonic. Now, five years after the monumental accomplishment of the WAMM, Alexx V builds upon the original Alexx's success by offering a completely re-engineered performance envelope without greatly increasing the footprint. Comparing the overall size of Alexx V to the original, Alexx V is only one inch deeper and one inch taller while maintaining the same width.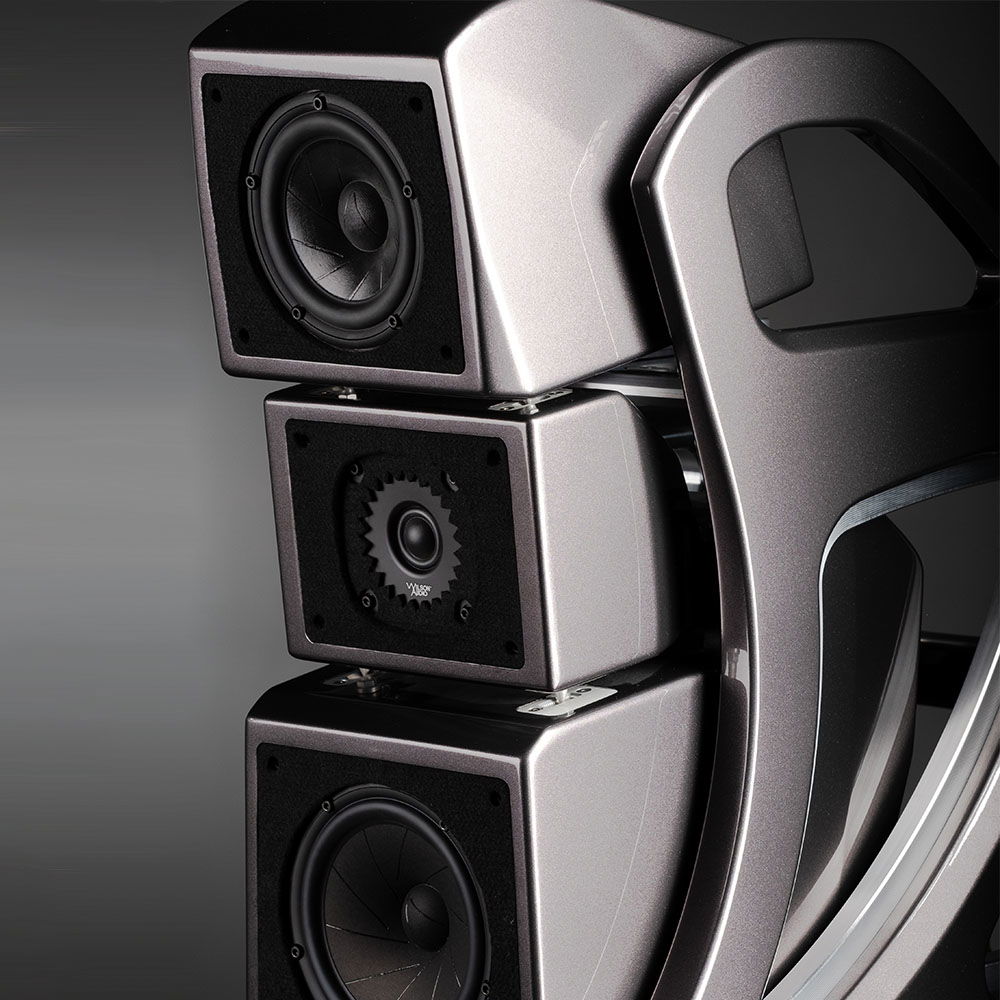 Materials
A variety of carefully chosen materials have been implemented in Alexx V's design. The latest version of X-Material, extremely monotonic and damped in its response, is found throughout the woofer, gantry, and upper modules.

S-Material is tightly coupled to each midrange and provides a neutral and natural surface from which music can launch.

First used in the Chronosonic XVX, Wilson's latest and most remarkable sound-vortex, V-Material, is strategically nested into interface locations for superior vibration control.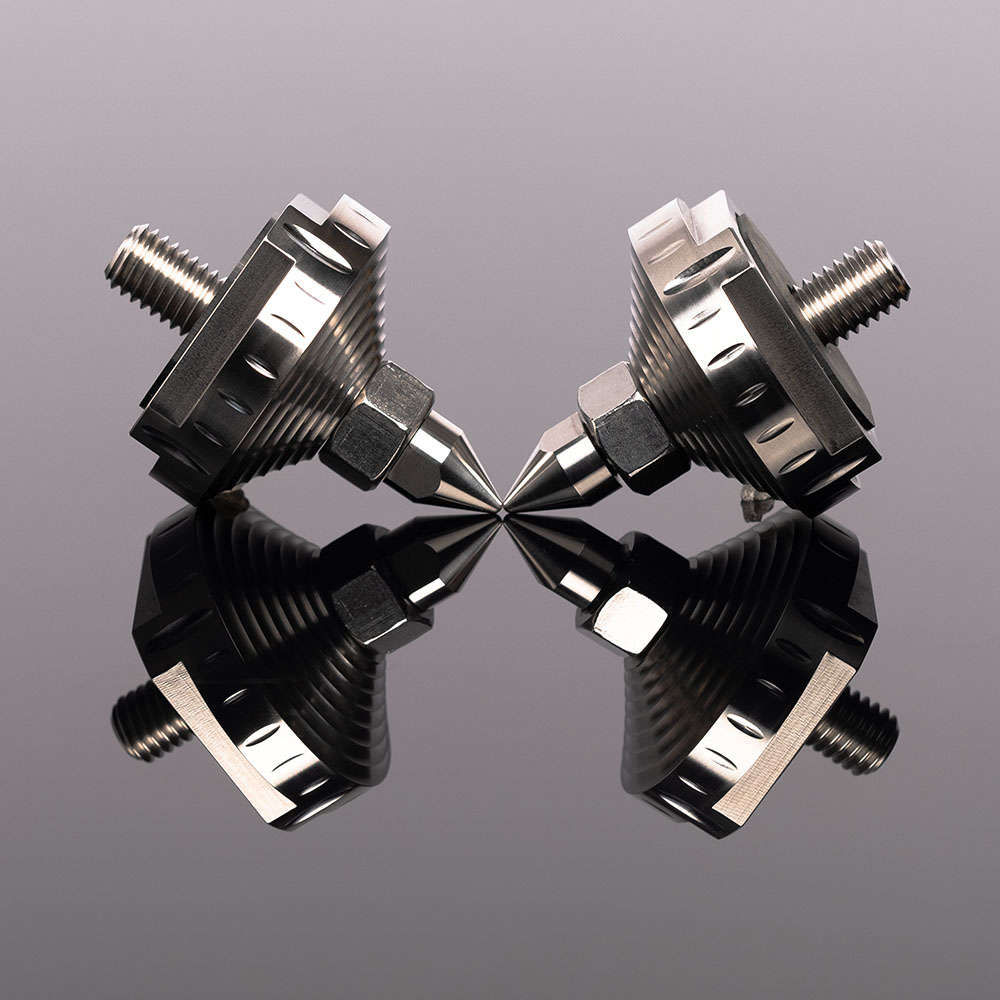 Acoustic Diode™
V-Material can also be found in the new, carefully engineered, and high performing Wilson Audio Acoustic Diode™ spike system.

The Acoustic Diode™ is an all-new spike system launched with Alexx V, which has been completely upgraded from Wilson's standard spike system, and features a novel combination of austenitic stainless steel and V-Material.

This coupling system was created by Wilson Audio's Special Applications Engineering® (WASAE) division and has superlative vibration management that reveals far greater dynamic nuances across the entire frequency spectrum.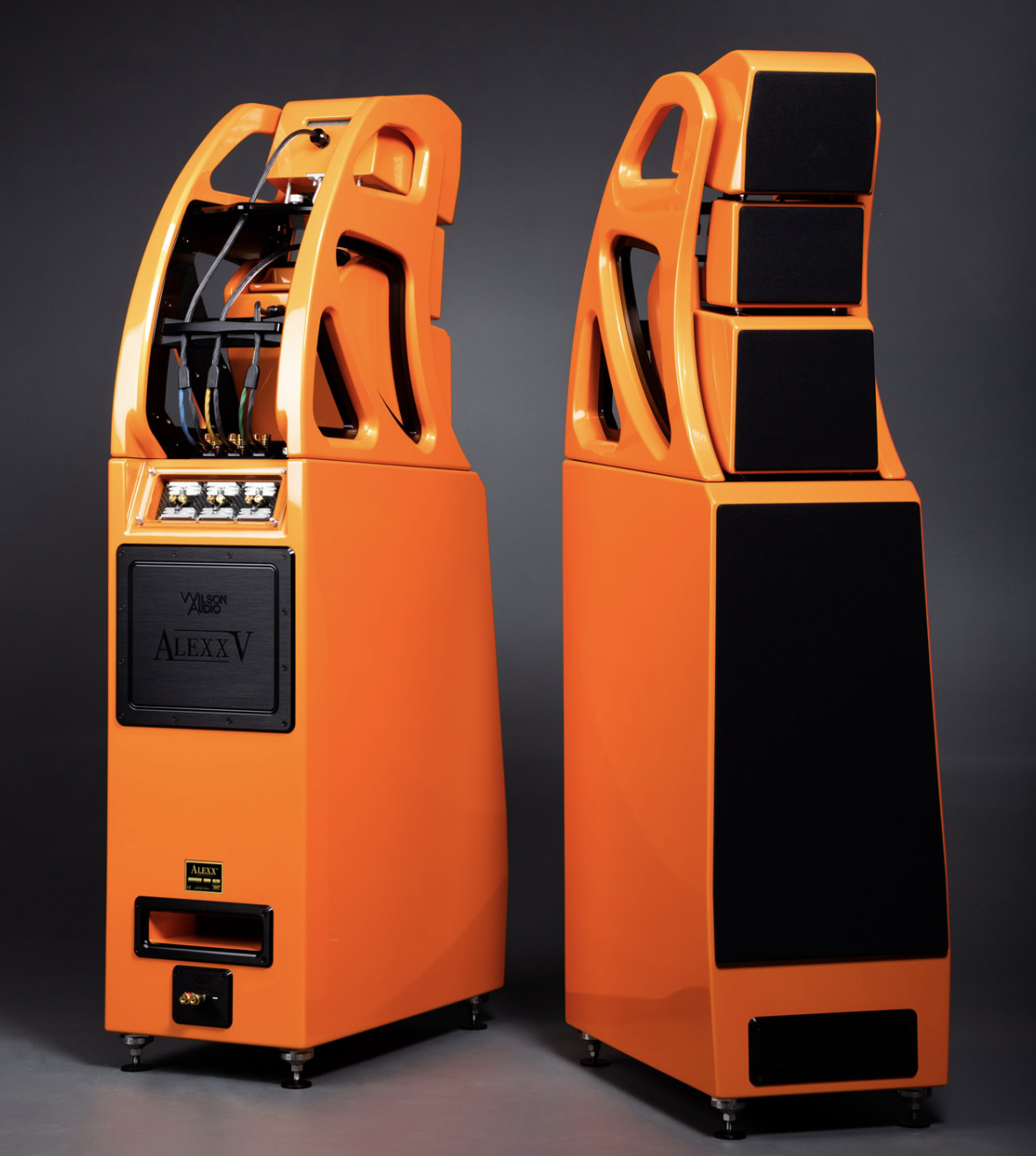 Adaptable
Alexx V is an extraordinarily adaptable design. Carrying over elements from its larger siblings, such as the XLF reversible woofer port and independently adjustable modules, allows this system to be elegantly tailored to your listening room.

These tools built into the DNA of Alexx V allow for greater ease of installation into a wider variety of listening spaces, thus permitting the listener to truly experience the depth and ability of this system.

The open architecture gantry first launched with WAMM Master Chronosonic, followed by Chronosonic XVX, has now found a home with Alexx V. Not only does this benefit the overall appearance of the loudspeaker, but critically, it also enhances the overall rigidity of the entire upper module section and minimizes pressure trapped behind the enclosures, resulting in greater fidelity. Easier access to the upper modules makes for quicker adjustments.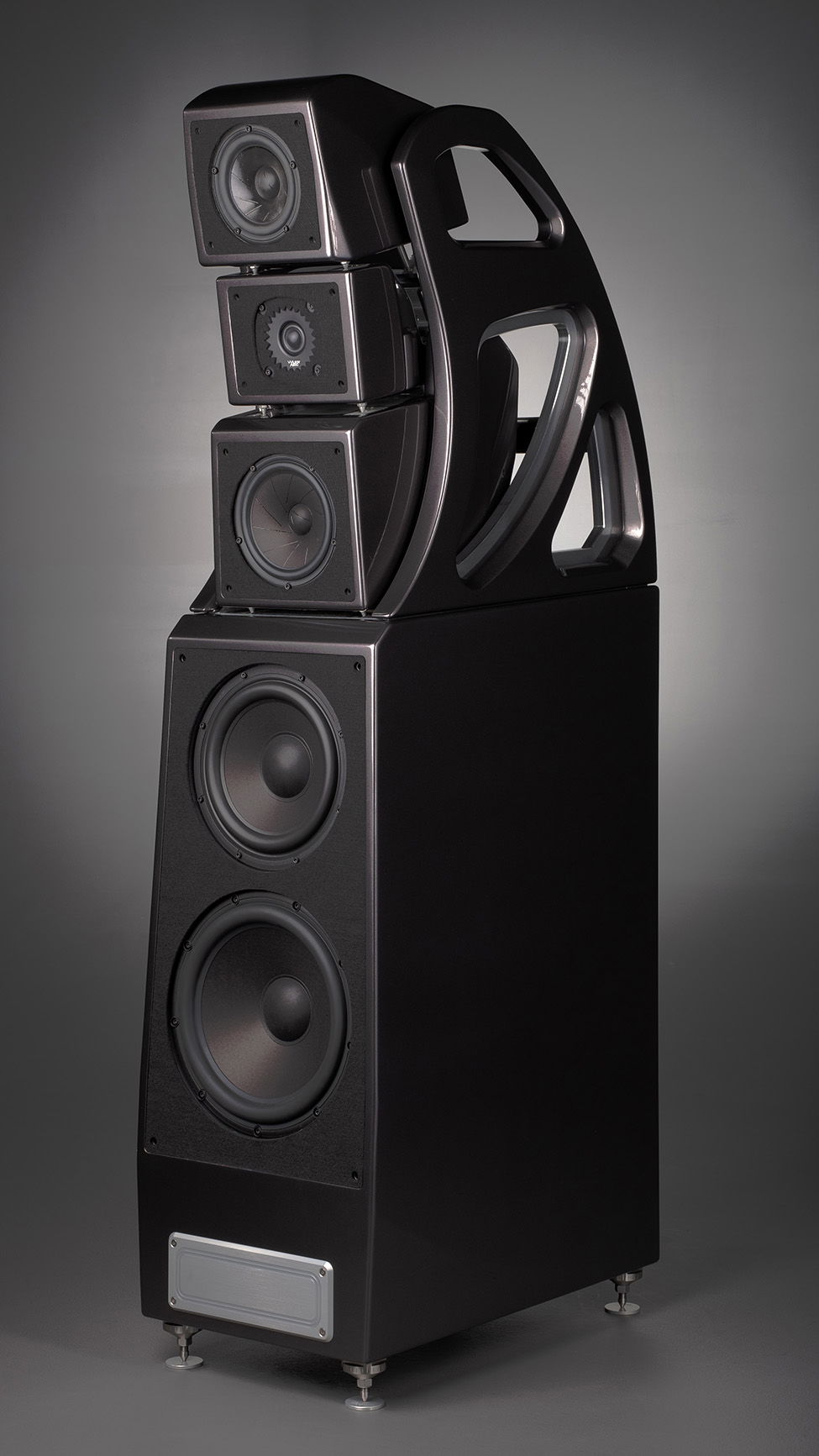 Drivers
Continuing the Midrange – Tweeter – Midrange (MTM) design geometry of the original Alexx, Wilson's Engineering team has spent considerable time advancing key components of the loudspeaker's sound characteristics. Every baffle angle, at every module position, has been refined. The time-alignment accuracy of Alexx V is much closer to the XVX, giving this system the ability to recreate micro-detail one would expect from a much larger system.

The different sized lower and upper midrange drivers allow for a more careful tuning of the frequency band, which, when combined with the latest manufacturing advances, gives a greater degree of accuracy and adjustability. The incredibly fast and resolving 5.75" mid-woofer used in the original Alexx, TuneTot®, and SabrinaX, carries over to Alexx V.

With the midrange band managed by two dissimilar sized drivers Wilson opted to leverage the incredible advances of their Alnico (Aluminum, Nickel, Cobalt) QuadraMag® design. This 7" mid was originally developed for Chronosonic XVX and has a warmth, beauty, and texture that brings to life all the elements in your favorite recordings. The QuadraMag driver combines four separate magnets, arranged in an innovative quadrature geometry, further enhancing the delicate intricacies found in the all-critical midrange region.

Behind the midrange drivers, internal wave diffusers have been machined directly into the material to further aid the resolving power of these drivers and by dramatically increasing the settling speed of the system. This creates a more life-like reproduction of midrange tone, expression, and accuracy in these remarkable midrange drivers.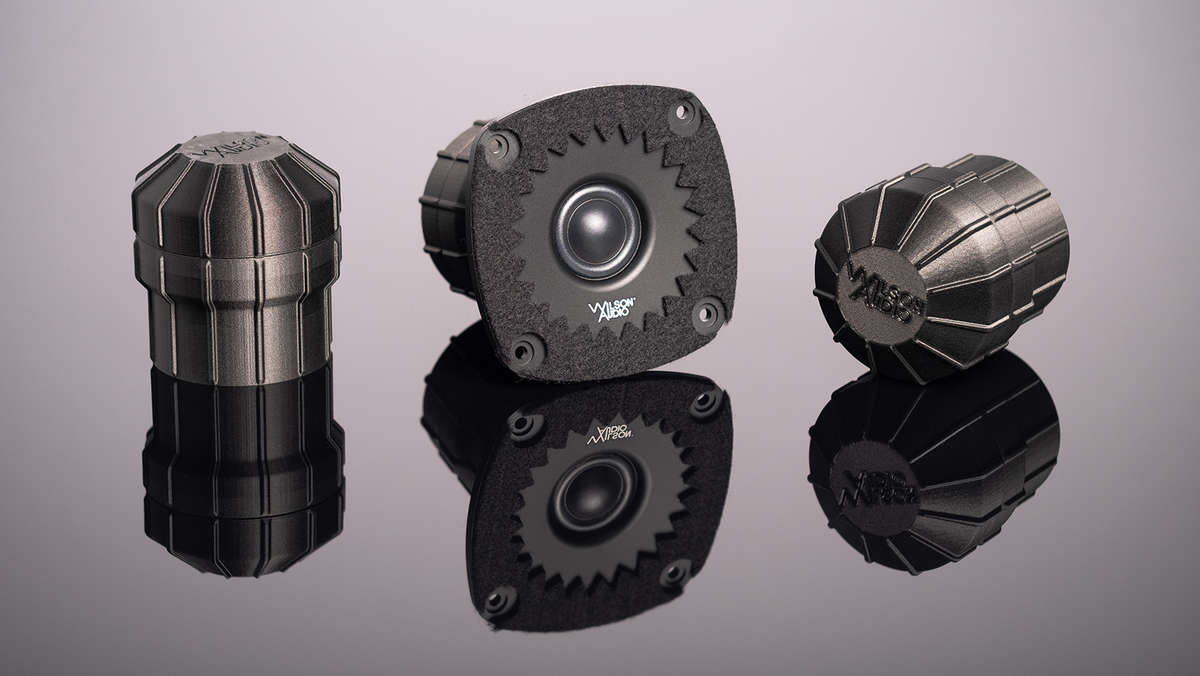 Tweeter
Alexx V features an entirely new Convergent Synergy® Carbon (CSC) tweeter, which builds upon a modified version of the previous Convergent Synergy motor while embracing an re-imagined, intricate, and innovative rear-wave chamber. This carbon fiber design is completely manufactured in-house using several 3D printers. The sonic results of this tweeter development cycle have been nothing short of dramatic. The CSC offers far greater and more linear high frequency extension while providing unprecedented ambient retrieval and superior harmonic detail.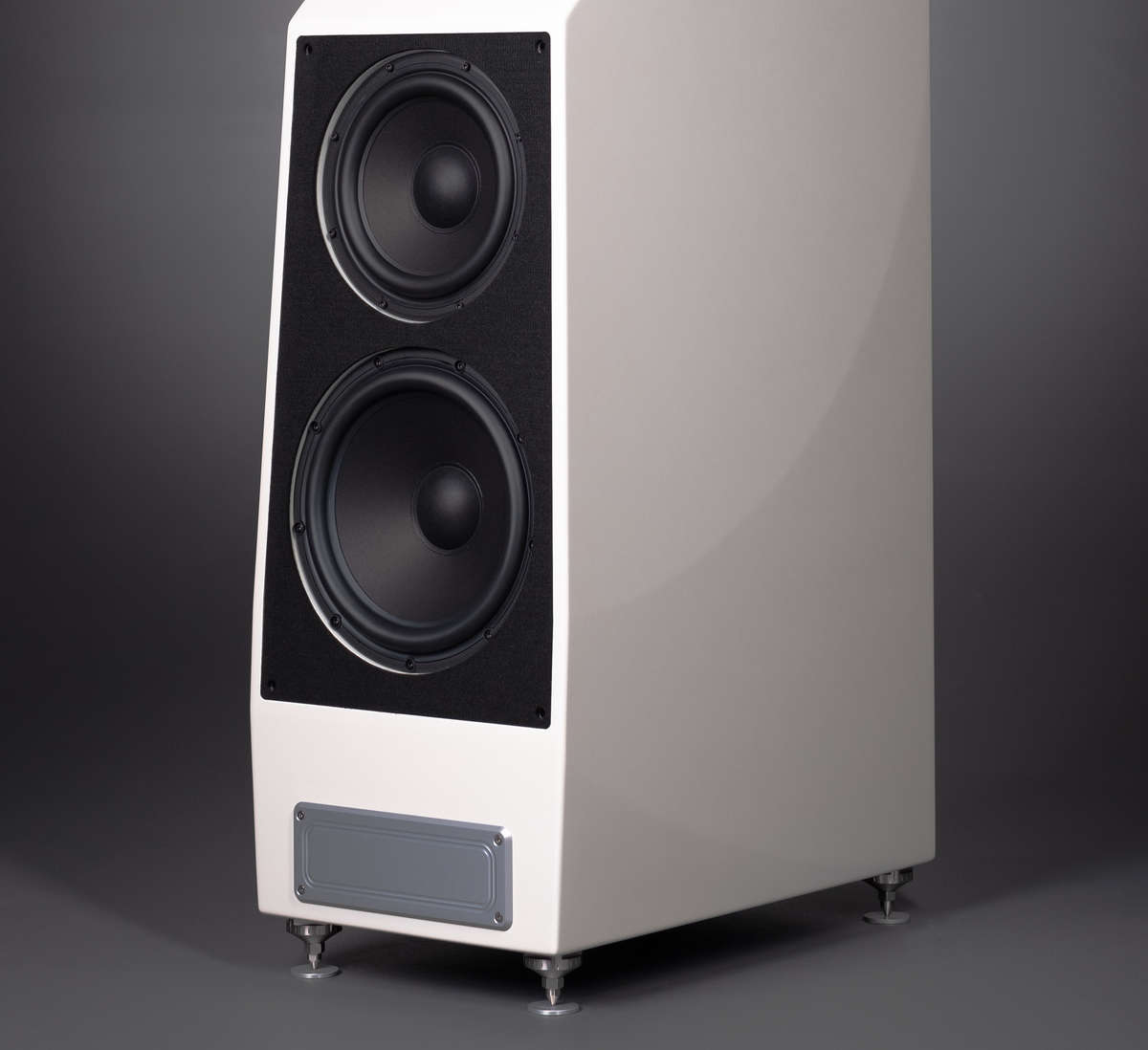 Woofer
Wilson Audio originally developed the 10.5" and 12.5" woofers in conjunction with the WAMM Master Chronosonic. These state-of-the-art bass drivers incorporate Wilson Audio's latest thinking into accurate and musically relevant low frequency reproduction. Carefully optimizing the Alexx V enclosure, the internal volume has dramatically increased (+16%) compared to the original Alexx. The net result is that Alexx V features almost the same internal woofer volume as the Chronosonic XVX, which in turn allows for much deeper low-frequency reproduction, faster transient settling, and an overall increase in bass resolution.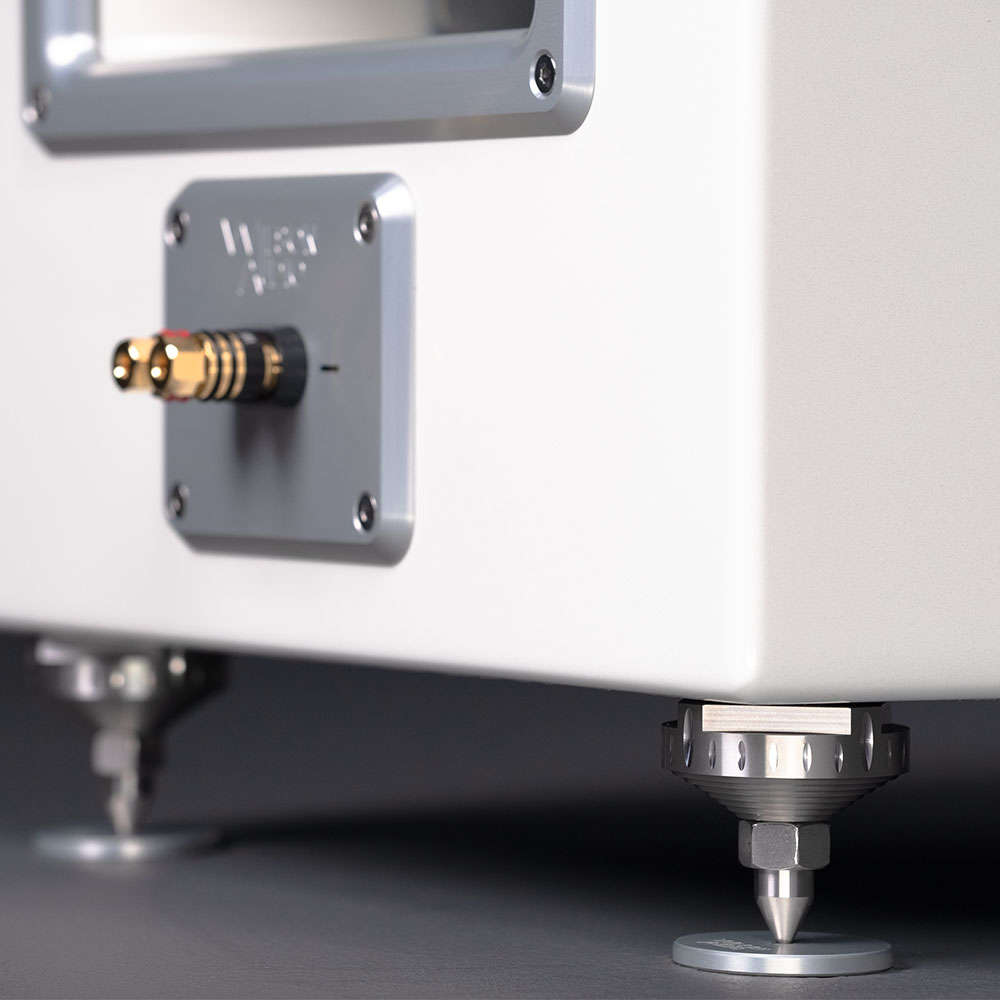 Specifications
Nominal Impedance: 4 ohms / minimum 2.0 ohms @ 250 Hz
Sensitivity: 92 dB @ 1W @ 1m @ 1k
Frequency Response: 20 Hz – 32 kHz +/- 3 dB
Tweeter: 1 inch, Dome (2.54 cm) Dome Material: Doped Silk Fabric
Mid-Range: 5.75 inches (14.61 cm) Cone Material: Doped Paper Pulp
Mid-Range: 7 inches (17.78 cm) Cone Material: Paper Pulp Composite
Woofer: 10.5 inches (26.67 cm) Cone Material: Hard Paper Pulp
Woofer: 12.5 inches (31.75 cm) Cone Material: Hard Paper Pulp
Tweeter (Sealed): X-Material
5.75" Mid-Range (Rear Vent): X-Material with S-Material Baffle
7" Mid-Range (Rear Vent): X-Material with S-Material Baffle
Woofer (Front or Rear Ported): X-Material with V-Material Top Plate
Height: 63 5/16 inches (161 cm) w/o spikes
Width: 15 3/4 inches (40.01 cm)
Depth: 27 29/32 inches (70.88 cm)
Weight Per Channel Uncrated: 500 lbs (226.80 kg)
Total Approximate Shipping Weight: 1,400 lbs (635.03 kg)
Wilson Audio Alexx V
Available in-store on March 29, 2021.

Contact us to schedule your private audition.
Contact Us >
Wilson Audio Alexx V
This product is available for purchase in-store only. Contact us for more information.
Contact Us >