French Favorites ATOLL ELECTRONIQUE Join Paragon's Brand Lineup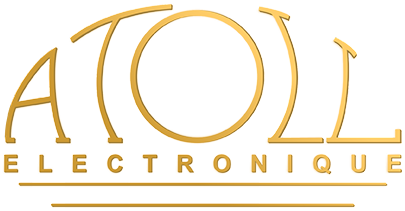 We are thrilled to announce the latest addition to our hand-picked line of brands: ATOLL ELECTRONIQUE!
Already well-regarded and widely awarded in the European market, Atoll was founded in 1997 as a response to the need for audiophile-quality products at value-minded price points. All Atoll products are assembled and tested at their factory in Normandy, France. Printed circuits are wired by hand, and each electronic card is checked and measured individually before assembly. All products also go through a complete quality test before they are packed and shipped.

The Atoll lineup comprises over 40 products spanning the categories of integrated amps, preamps, CD players, streamers and more. Many products have customization options to add additional functionality depending on your use case. We absolutely love their combination of versatility, build quality, design, service, and accessibility. There are no shortage of attributes that make Atoll a perfect fit for Paragon & our commitment to being a Full-Service Dealer.

NO SPACE? NO PROBLEM

Looking for components that have a smaller footprint for space considerations? Atoll has you covered with a number of options designed to distill the Atoll technology and engineering principles into a compact chassis.

We wanted to introduce you to Atoll by proving that you don't need a huge room or budget to get great high-end sound out of your digital music.
FEATURED SYSTEM: Minimal & Modern in the MMC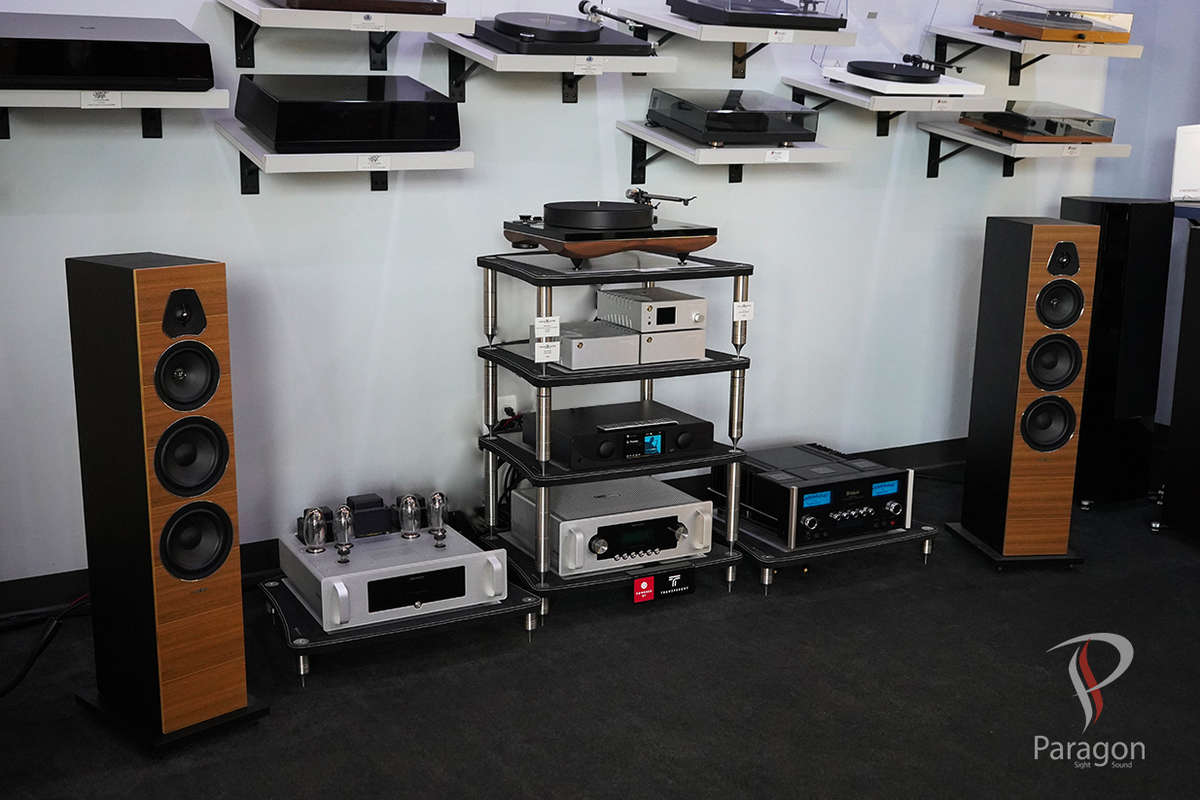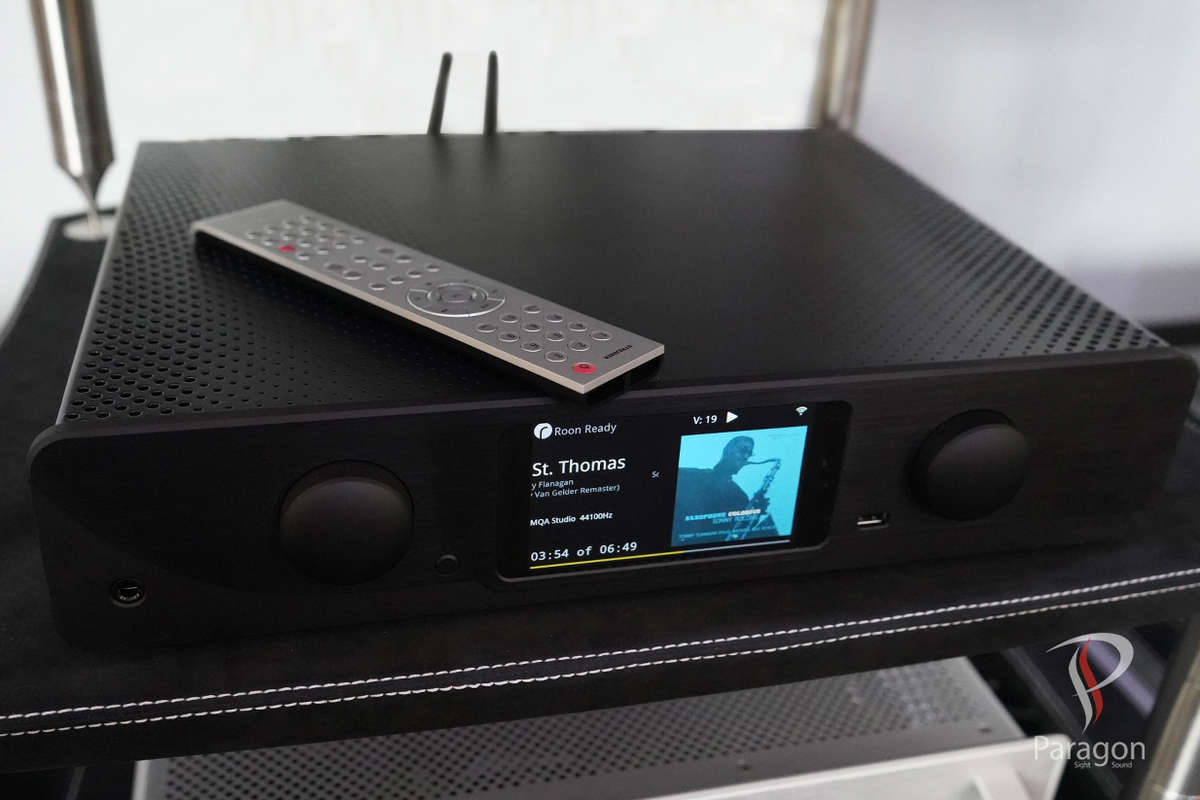 Small Footprint, Big Sound
Paragon's Modern Music Center (MMC)
Keeping in line with Atoll's philosophy, this week's featured system has a small footprint and is only comprised of 3 products: Sonus faber Lumina V Floorstanding Speakers, Transparent Plus Speaker Cables, and the hard-working Atoll SDA200 Signature. The SDA200 is a DAC, Streamer, and Integrated Amp--all in one compact unit.

The result is a vivid and dynamic soundstage, with a realistic presentation. And with a wide range of inputs & outputs as well as compatibility with multiple streaming platforms, this system is as versatile as it is simple.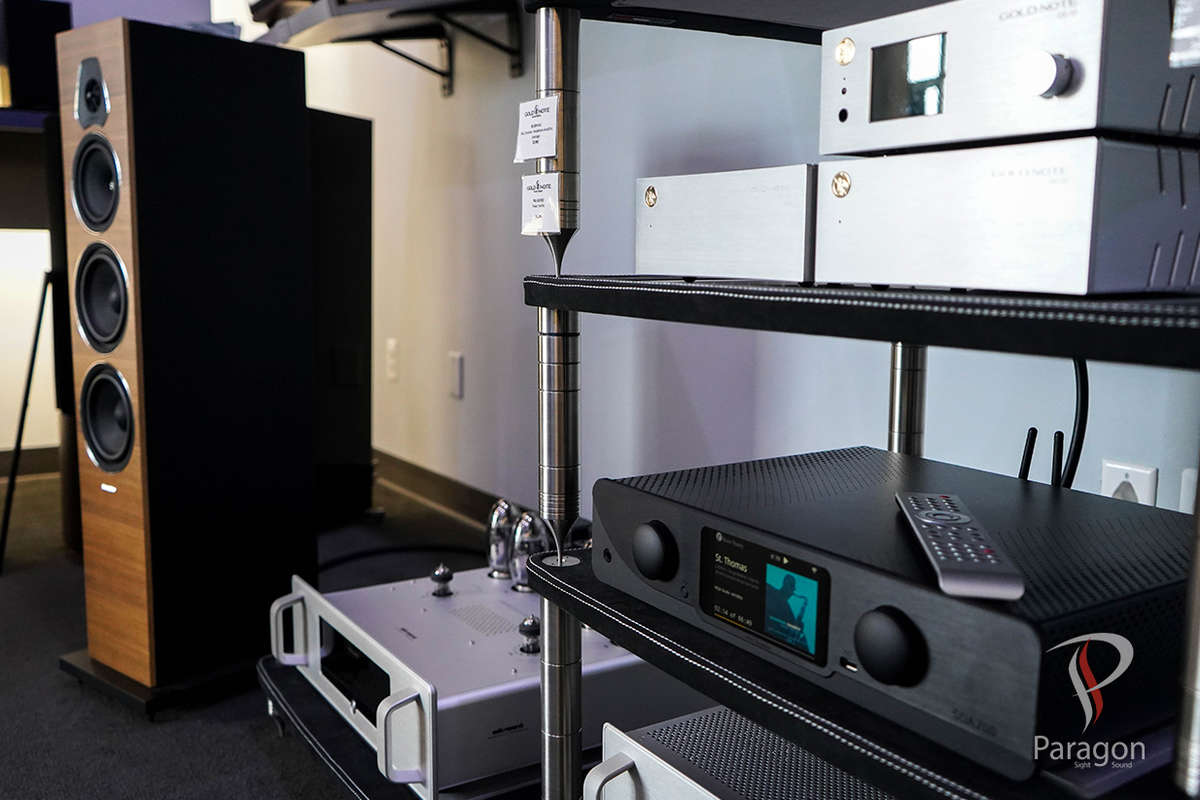 Want to hear this system for yourself? Visit our showroom during business hours or schedule an appointment to demo this system in our Modern Music Center audition room!
Contact Us >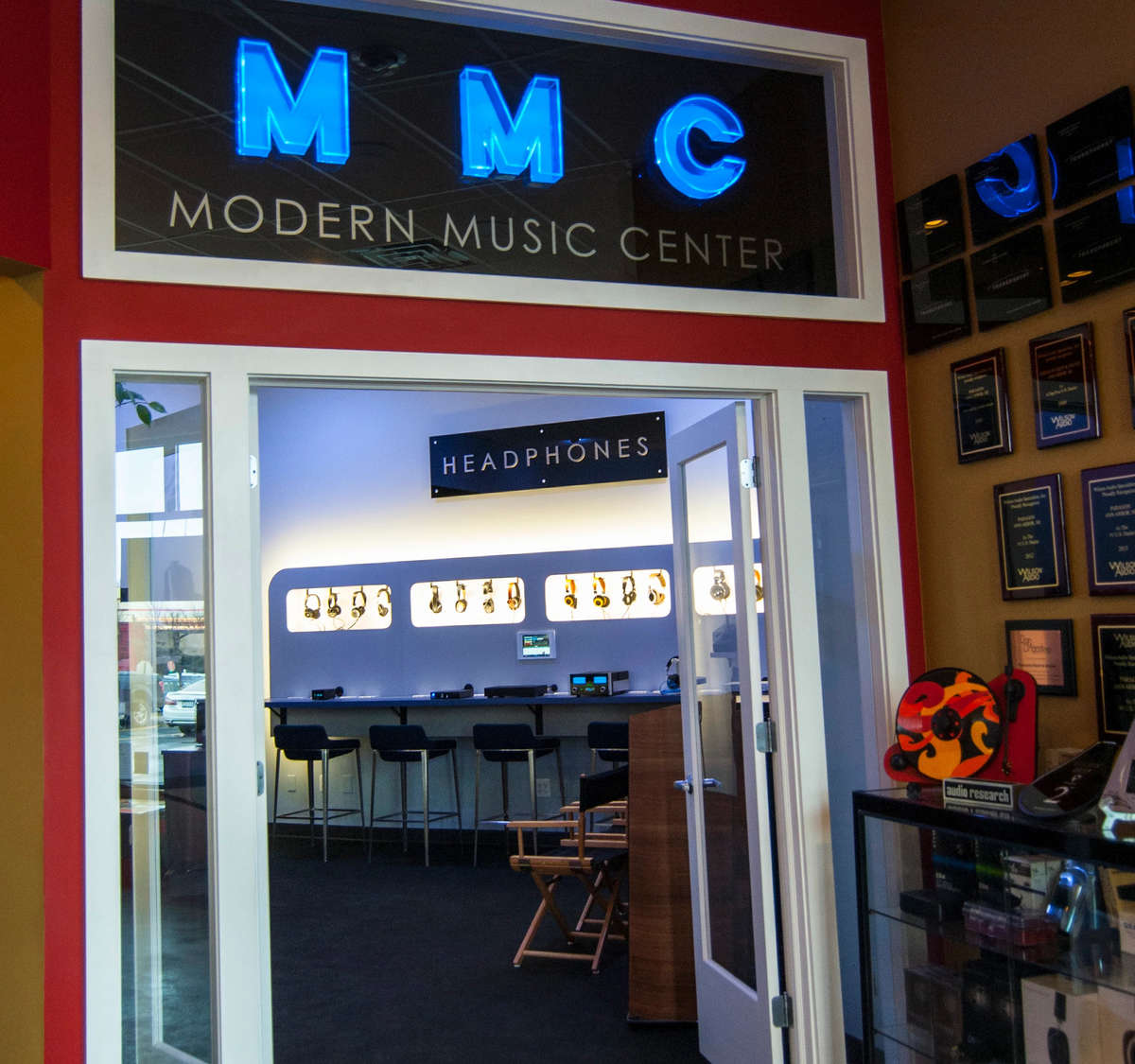 About the Modern Music Center (MMC)
During the last few decades, we've seen (and heard) the evolution and refinement of digital music, a renewed interest in personal listening, and a rejuvenation of the vinyl listening experience. Today, you have more choices than ever, both in the music you listen to and the audio equipment you listen with. Paragon's goal for the Modern Music Center is to show you the latest technology products and help you find high performance gear at budget-friendly prices.

To that end, the Modern Music Center focuses on accessibility and interactive product experiences. By bringing together many of today's popular music formats into one convenient demo space, our customers can get hands-on with a wide range of components. We know this unique new space will bring more fun and engagement to your shopping experience.

Features a Streaming Bar, Headphone Bar, & Turntable Bar.
Featured System Components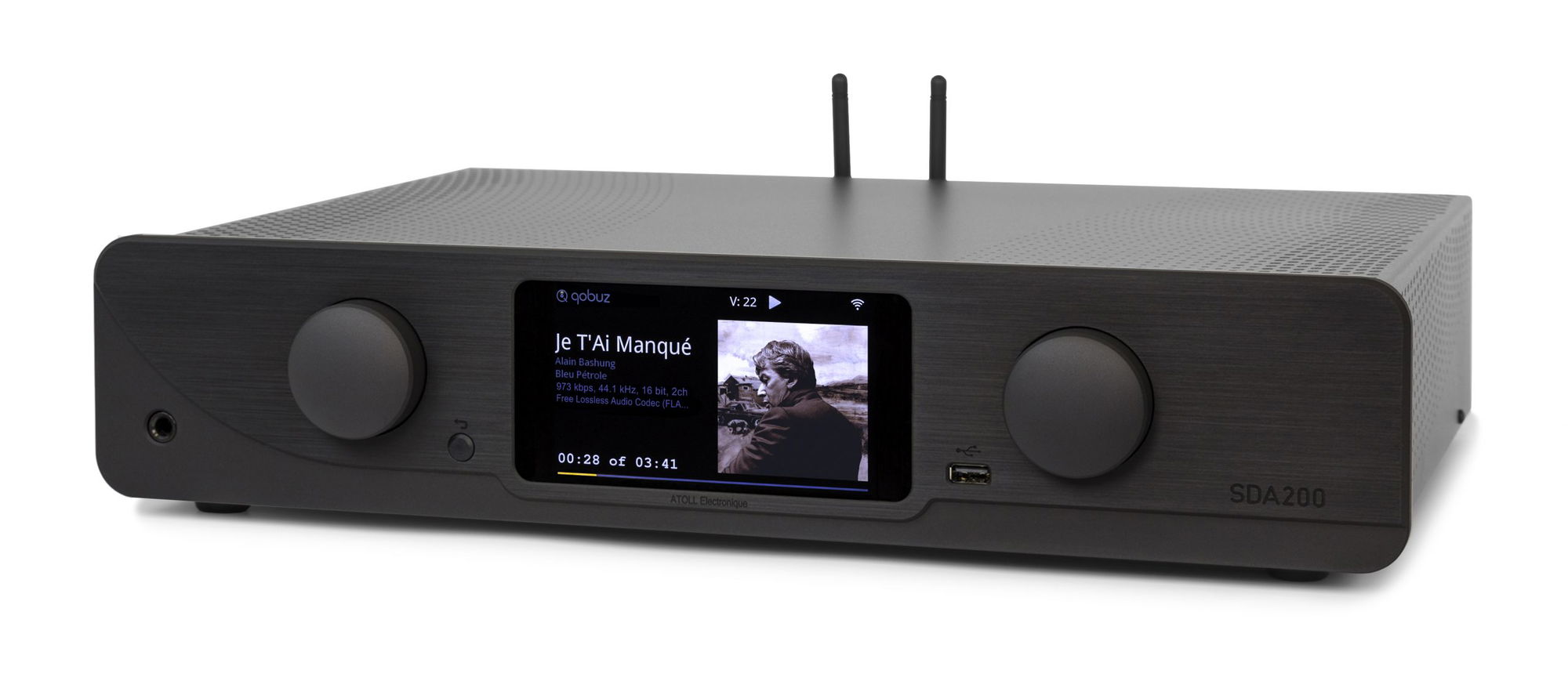 ATOLL SDA200 Signature
Streamer/Preamp/DAC & Remote Control
"Feature packed, and with a remote plus dedicated app for even more enjoyment...the design is superb and engineering quality sublime...Portrays sounds as they were recorded, presenting a wonderfully realistic and natural soundstage. It's priced as something of an audiophile bargain to boot."

-- The Ear, "Best HiFi Components of 2022"
SDA200 Signature Does It All
Whether it is listening to high-definition streaming music, locally from your network, from a USB key, a hard drive, Bluetooth®, or your favorite internet radio stations, the SDA200 Signature "All-in-one" is totally adapted to the current needs related to the reading of digital music files.
Discrete component preamp stages without negative feedback in pure Class A.
Analog volume management (switched resistors) that can be bypassed.
Specific power supply dedicated to the audio stages.
Specific power supply dedicated to the analog-digital audio converter.
MKP technology link and filter capacitors.
Burr-Brown PCM1792 digital to analog audio converter.
ATOLL Global Remote Control.

Available for purchase online or in-store at Paragon Sight & Sound!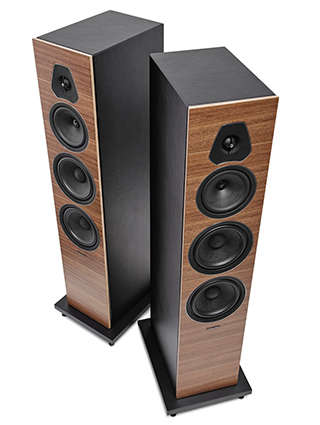 Sonus faber
Lumina V Floorstanding Loudspeaker
The flagship three-way floor standing model in the Sonus faber Lumina collection. A slender speaker, with high power handling and fast transient response, capable of producing a natural, generous, and emotional sound for an immersive listening experience. Pictured in Walnut finish.

Available for purchase online or in-store!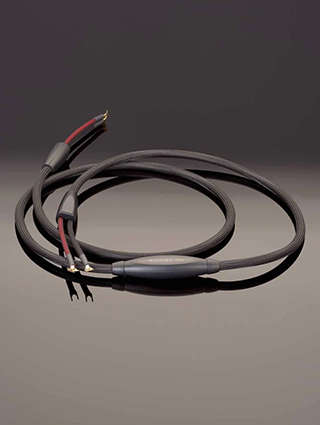 Transparent Audio
Plus Speaker Cable
Prices vary - See product page for details
Transparent builds Plus speaker cable by hand from OFHC copper cable and Transparent gold plated connectors. Plus networks insure better low frequency signal transfer and help reveal more musical information because they reduce noise.

Multiple length, termination, and speaker input options available! See product page or contact us for details.