Paragon Home | Outdoor Entertainment Systems
Smart Home technology is now standard inside many homes, and that tech now extends outside into modern outdoor living spaces. Your outdoor space can include music, video, lighting control, camera surveillance, and more. If you already have an indoor smart system, we can even integrate your outdoor system control into your indoor systems, offering seamless control at your fingertips.

Our Paragon Smart team is well versed in outdoor tech and offers design and installation of outdoor systems to seamlessly integrate with your Smart Home. To learn how Paragon can enhance your backyard experience, contact us to schedule a consultation today.
Tell Us About Your Project >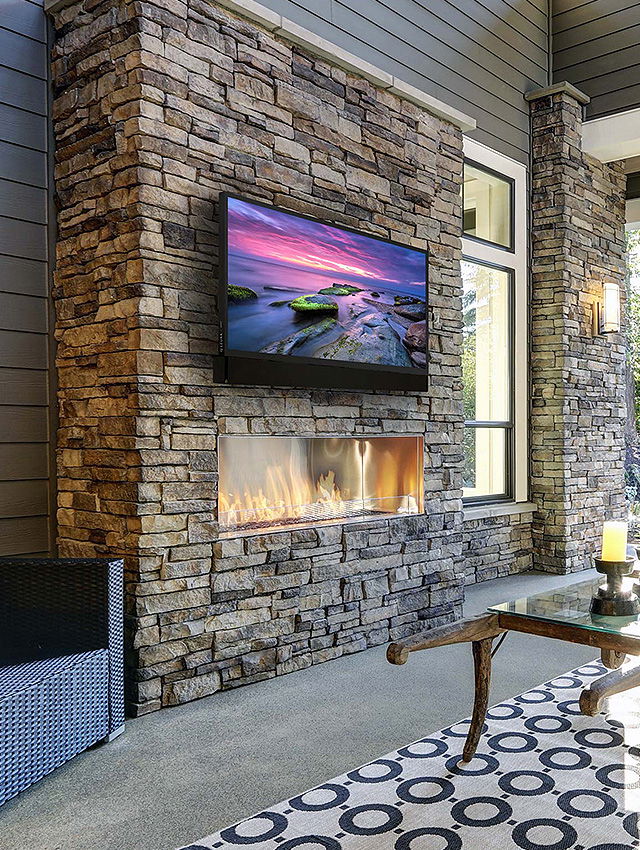 Making a Perfect Outdoor Entertainment System
At Paragon, we don't push pre-set cookie-cutter systems. We believe that each system should be custom designed to fit our client's preferences and their space. Our Paragon smart home design team considers performance, product placement, required electronics, wiring runs, lighting, system control, and more. When we design an outdoor system, we consider all of these factors and we work with you to find what fits your personal taste and budget.

Ready to start your outdoor entertainment system project?
Contact Us >
Outdoor Speakers
Whether you're relaxing on your deck, by the pool, or hanging out at the barbecue, music enhances the natural beauty of your yard and sets the tone for how you spend your leisure time. We can accomplish outdoor music with a variety of speaker types, which differ in size, style, placement, and performance. Paragon's selection of outdoor speakers range from speakers that can be mounted to your home's exterior or deck, to in-ceiling speakers for your three-seasons room, or even landscape speakers that blend into your garden and spread sound throughout your yard.
Outdoor Televisions
For those who want to enjoy the weather but not miss your sports game, outdoor waterproof TVs are a great addition to your outdoor system. It's a crisp, cool Saturday in October and football is in the air. If you don't have a ticket to the game, hanging out with friends in your backyard and watching the game on your outdoor TV is a blast. In the last few years, we've seen an increase in the number of "outdoor ready" video options. Paragon Home has installed plenty of outdoor TVs and we know all the tricks to selecting the best location.
Outdoor System Control
Inside or outdoors, a whole home control system will allow you to control your music, video, lights, surveillance cameras and more!